If you are expecting a response, Please enter a valid email address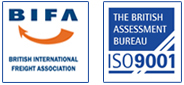 SKYSWIFT UK can offer Project Cargo, logistics and supply chain management advice for any company, to ensure that you receive the best solution for your business needs. We have a wide range of experience and can offer solutions based on your company's requirements to speed up operations and ensure optimum use of resources.

SKYSWIFT UK is fully certified to handle airfreight shipments and dangerous goods, with full compliance with the IATA regulations for the transport of dangerous goods.

Our management team is also fully certified at a high level of transport planning and management.
Registered in England No
VAT Registration No